Staying Safe While Driving this Winter
Top Tips from a 25,000 mile per year Scottish Courier
WHILE temperatures plummet across Scotland in the lead up to the New Year, motorists are urged to take extra care when on the roads.
As temperatures have already dropped below freezing across Scotland, roads are icy, meaning drivers should only travel when necessary and be overly cautious when they do.
This winter has already been set to be the worst in Scotland since the winter of 2012/2013 with the Met Office issuing a yellow "be aware" warning across the whole of Scotland.
Flights have been cancelled and roads have been closed causing multiple disruptions on our journeys.
Up to 5,000 homes lost power due to Storm Caroline's strong winds across the north of Scotland and over fifty schools have already been closed due to poor weather conditions.
With the first heavy snowfall of the season hitting Edinburgh and Glasgow in only mid-November it is clear we are in for an extremely teeth-chittering season.
Having worked for Eagle Couriers for 21 years and travelling on average 25,000 miles per year- that's the same as travelling the circumference of the world each year- Simon Oliver is definitely an experienced winter driver.
To keep you extra safe on the roads this winter, the Edinburgh based courier has put together his five top tips for driving in poor weather conditions:
It is common sense but make sure your windscreen, mirrors and lights aren't frozen over. Don't just rely on looking through a small patch on the windscreen but take extra time in the morning to make sure everything is clear.
Where possible, stick to main, gritted roads and try to avoid side roads as these have a higher chance of being icy.
Check the speed limits for your journey to see if there have been any reduced speed limits put in place.
If the road looks wet but doesn't appear to be ice, remember this could be black ice. Black ice is practically invisible to drivers so be extra cautious of this. Try and maintain your speed without slamming on the brakes so you remain in control of your vehicle.
Leave ten times more space between you and the car in front to ensure you have plenty of breaking space
Simon said: "I'm always prepared for poor driving conditions. I keep a winter box in the van just in case. In it I have a torch, a blanket, water, de-icer and my wife's glass cleaner so I can keep my windows, mirrors and lights clean.
"Being located in Currie, I am usually one of the first in Edinburgh to get hit by the bad weather so it is important I stay up to date with weather updates and news of road closures. I usually check this the night before and the morning of my drive."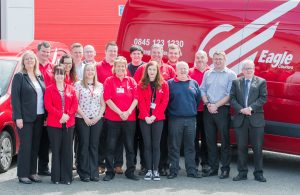 If you'd like to speak to us, give our team a call on 0845 123 1230 and we'd be delighted to help you out.
http://www.eaglecouriers.co.uk/cms/wp-content/uploads/2017/12/Winter-Road-Free-to-Use-c-o-Thomas-Quine-e1514458777820.jpg
600
800
eagle_admin
/cms/wp-content/uploads/2015/01/eagle-logo-340-3.png
eagle_admin
2017-12-28 11:06:50
2018-01-17 14:39:39
Staying Safe While Driving this Winter - Top Tips from a 25,000 mile per year Scottish Courier