As Scotland's leading independent couriers, we are always looking for motivated team members to join our fleet.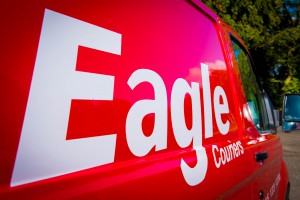 If you have ever woken up and felt that impending dread heading to the same stale office or workplace, day-in day-out, then perhaps you need to head down a new career highway… and join our crack team of expert drivers.
The following five points outline some of the key perks to becoming a self-employed courier with Eagle Couriers.
1.     Ditch the desk
This is no desk job. That means no more RSI in the wrist from all that incessant typing and no boss standing over micro-managing the life out of you.
A courier's day is ever changing – so if that sounds like a welcome departure from your currently weekly dirge, then you may want to read on…
2.     Be your own boss
You'll be self employed; therefore you will be free to enjoy the wonder of flexibility with the 9-5, five day endless routine but a distant memory.
Our self-employed drivers can choose short or long term contracts, whether they work part, full or overtime and whether they wish to choose local or long distance jobs.
Drivers can also use their own vehicles, or choose to hire one of ours. There really is that much freedom and did we mention no boss standing over you…. Oh yes we did already.
3.     Meet new people
It's about enjoying the small things in life, and in this job you will have you meeting and interacting with hundreds of people every week – so with all those parcels reaching happy recipients you will be bound to raise a smile or two – and that – is good for the soul.
4. It's a Driver's Life
If you enjoy driving then this job is right up your street.
We often forget just how stunning this country can be – and as a courier you could be driving some of the most scenic highland roads in Europe one day, then passing landmarks such as the Kelpies, theHydro or Edinburgh Castle the next.
 5.     Satisfaction
Working for a courier company can be genuinely rewarding. After finishing your list of deliveries, at the end of the day, you will not be taking your work home with you, plus you can relax in the knowledge that you played a vital role in delivering important items to so many people.
So the good news is: we are on the lookout for self employed drivers just like you to join us immediately.
If the above five points appeal to you then waste no time and get in touch with us to get your career soaring with Eagle Couriers.
More information, including how to apply can be found on our Vacancies page*.
http://www.eaglecouriers.co.uk/cms/wp-content/uploads/2015/07/EAGLE_COURIERS_SEPT14_HPR-29Resized-2000px.jpg
1331
2000
eagle_admin
/cms/wp-content/uploads/2015/01/eagle-logo-340-3.png
eagle_admin
2015-07-16 17:46:20
2015-07-16 17:46:20
Becoming a Courier – Your Road to Career Success?