Something to be thankful for this Winter, courtesy of Eagle Couriers
Why our extra services can keep you calm in that frantic period in the run up to Christmas
The run up to Christmas in the States effectively starts with Thanksgiving, which quite handily offers another excuse for a big sit down Turkey dinner.
We don't bother with this here in Scotland, yet we have so much to be grateful for, health, happiness and of course: progressing much further than our neighbours at the recent Rugby World Cup.
Believe it or not, we are living in an exciting time, seeing changes perhaps faster and more drastic than any era at least since the industrial revolution. However this brings with it new challenges for businesses and increases the need to outsource to trusted suppliers.
To help your business overcome these challenges, below are some of our own less obvious services that our commercial and public sector clients can be especially thankful for this winter:
Storage and Retrieval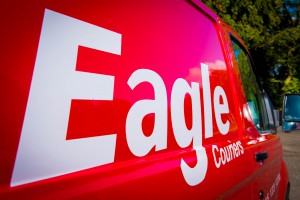 Our bulk storage and retrieval services mean that you needn't worry about the Christmas rush. Whether you want materials in early or you want orders ready to go in a timely fashion, not in keeping with the traditional last minute December dash, we can provide warehousing for you to keep ahead of the game.
Own Brand Delivery
Our own brand delivery service isn't something you'd ever notice and for that reason is something you probably didn't even know we offer. That's because our drivers fit seamlessly into your business.
Our vehicle and driver services fit with your company branding so you needn't worry about making the right impression.
Industry Technical Services
On top of providing fast, efficient and secure delivery we offer technical services for industry, whether computer installation or white good delivery. Computer set-up enables you to concentrate on what you do best rather than trying your hand at impromptu wiring.
Whilst nothing says Christmas day like an oversized roast turkey, we are more than happy to deliver bulky white goods so you can do the big bird justice.
Packing and Dispatch
At this time of year, it can be near impossible to keep on top of your to-do list. This means more orders to be sent out as there's less time to make it to the shops. With our sorting, packing and dispatch services all you need to do is provide the goods. This eases the load on you, while you ease the load on your customers.
Couple this with our stock management and bar coding, and you'll barely feel the increase in busyness while reaping the rewards of increased business.
All of this from our central, modern and secure warehouses, we're blazing a trail at this time of year and helping your business make a bang well into the New Year.
Our supplementary services truly something to be thankful for.
If you would like to find out more, give us a call on 0845 123 1230.
http://www.eaglecouriers.co.uk/cms/wp-content/uploads/2015/12/Thanksgiving-Fundraiser-2-e1449075130188.jpg
296
800
eagle_admin
/cms/wp-content/uploads/2015/01/eagle-logo-340-3.png
eagle_admin
2015-12-02 16:34:33
2015-12-03 12:11:01
Something to be Thankful for this Winter, courtesy of Eagle Couriers